2023 Timesheets Filling up Fast!
Kingdom Cup April 7-9, 2022
Farrelly Secures his Second Pinergy Series Victory at The 2022 Kingdom Cup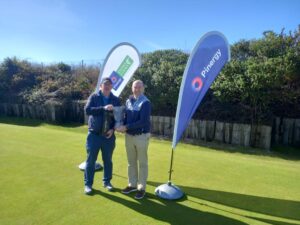 Ian Farrelly from Seapoint Golf Club became the second golfer to win a second title in the history of the Pinergy Series. Following on from a victory at The Mount Juliet Masters in September 2021, Ian surged to victory in Kerry with a scintillating 44 points in round 3 at Dooks golf club. Ian's final tally of 114 points was enough to secure a three shot victory over three players. Daniel Nagle, Seamus Crowe and Eugene Lavelle finished second, third and fourth respectfully with final standings being decided upon by countback. Declan Glynn secured the Best Overall Gross Prize.
The event went off with unaimous approval from competitors. For this, Lyons Links would like to say a huge thanks to our sponsors Pinergy and Kwack Golf. Also, it would be remiss of us not to say a huge thanks to our industry partners, Waterville Golf Links, Dooks Golf Club and The Butler Arms Hotel. The video below captures some of the magnificent scenery and the action from this years Kingdom Cup - the 2023 event will be launching soon.
Full results from the 2022 Kingdom Cup can be viewed here can be viewed here.
Book Now for 2023
Golf trips to Ireland and The UK to play the best links on the planet have always been high on golfers' wishlists. Demand has never been stronger than now with three seasons condensed into 2022, and the resultant squeeze on tee-times. There is still good availability for the North West of Ireland in 2022 which is a truly superb destination for those of you who have visited other regions. While there is still limited availability elsewhere for group sizes up to 8, if you have 9 or more golfers, and do not have great flexibility with your 2022, then it is time to start considering 2023. Below I have outlined the current situation with each of the regions.
North West Ireland
Certainly, the road less travelled, but as someone who has competed at Amateur Championships for nearly 3 decades at some of the best links in the UK and Ireland, I can say without fear of contradiction that the links in this region are every bit as good, if not better than what's in offer in other parts of the UK and Ireland. In County Donegal alone there are 9 superb Championship links courses that are jaw-dropping in their aesthetic beauty. Further south in the province of Connaught Many would argue that County Sligo golf club is the spiritual home of Irish Golf while Enniscrone and Carne receive universal acclaim from all who visit, while Connemara championship links has received rave reviews from no less than Peter Allis and Tom Watson. Galway Bay is a superb headland course on the outskirts of Galway city.
For those of you who are "links fanatics" and have visited the other regions in Ireland and the UK, 2022 is the time to visit the spectacular golfing region. Alongside the golf you explore the Wild Atlantic Way stopping off in Donegal, Sligo and Galway for what is sure to be one of the best golf trips you will ever take.
See a sample itinerary and make an inquiry here
South West Ireland
Probably the most popular destination of all this area has been welcoming Golf Tourists from around the globe since the 1970s. Most visitors use Killarney as a hub to visit the many great links nearby. The golf and the hospitality here is truly spectacular. If smaller groups of 8 are less are flexible with dates, we can certainly assist in putting together a 2022 trip, however, due to its popularity and the overflow from previous years, larger groups will need to consider a 2023 trip at this time. It's hard to believe but 2023 bookings are already starting to fill.
See a sample itinerary and make an inquiry here
Dublin and The East of Ireland
Another very popular choice, with all that Ireland Capital city has to offer and several great links within an hour's drive. This region is also very near capacity for 2022. There is slightly more room here than in the South West, however, larger groups will still need to start considering their 2023 dates.
See a sample itinerary and make an inquiry here
Northern Ireland
Hugely popular as always with Royal County Down, and Royal Portrush at the very top of a lot of people's wishlists. There is practically no availability for 2022 at these venues and while Portstewart, Castlerock and Ardglass are all exceptional options, practically all golfers who make the trip here wish to play the former two courses. We are now taking bookings requests for 2023 for Northern Ireland trips.
See a sample itinerary and make an inquiry here
West Coast of Scotland
With Turnberry, Royal Troon and Prestwick in this region and a plethora of other superb links this is another region high on demand. Similar to the South West and East Coast of Ireland there is limited availability here for smaller groups who are flexible on dates for 2022 but outside of that 2023 is the best option.
See a sample itinerary and make an inquiry here
Edinburgh and East Lothian
Edinburgh is, without doubt, a must-visit for anyone travelling to Scotland. It is a truly remarkable city. There is some availability for golf here at Gullane, Renaissance, Archerfield and the ever-popular North Berwick, however, anyone looking to play Muirfield may have to turn their sights towards 2023.
St Andrews
With the 150th open taking place in St Andrews in the summer of 2022, guaranteed tee-times on the Old Course have never been more in demand and are all but sold out. There are however some good options to visit and enter the local ballot while staying in St Andrews and we would be more than happy to assist with booking requests for this option for 2022 and 2023.
See a sample itinerary and make an inquiry here
Aberdeen and The Scottish Highlands
In reality, two distinct regions but both with superb links golf courses to choose from. Royal Dornoch, Castle Stuart and Nairn in the Highlands (among others) and Royal Aberdeen, Murcer, Cruden Bay and Trump International all stack up against the best links throughout the UK and Ireland. Both Inverness and Aberdeen have quality accommodation to choose from and a trip combining these regions is certainly an option for 2022 and 2023. As with everywhere though, your group may need a little flexibility if aiming for a 2022 trip.
Liverpool
A truly superb golf destination, England's golf coast, boasts three open championship venues and a slew of other great championship links. Stay in either Southport or Liverpool (great for Beatles fans). Again, availability is tight for 2022 with some room for manoeuvering if your group is small and flexible on dates. Larger groups are most likely going to need to consider 2023.
See a sample itinerary and make an inquiry here
Non-Golf or Limited Golf Itineraries
While tee times and tight and indeed some hotels are also filling up, we can put together spectacular itineraries for both 2022 and 2023 for groups big and small.
Thanks for taking the time to read my blog. Please don't hesitate to reach out if I can be further assistance.
Kind Regards to all our wonderful clients and friends
Joe