No less than 6 Open Championship Venues
With Six Open Championship venues allied to a trip down memory lane with The Beatles, this truly is a bucket list Golf Trip. Three Scottish links and three Liverpool links.
Day 1
Turnberry
Arrive at Glasgow Airport and transfer to one of the most iconic Golf Courses on the planet - Turnberry. This Open Championship venue has been both kind and oh so cruel to one of it's greatest champions. Tom Watson's victory in 1977 and runner-up finish in 2009 are two of the most famous Open Championships of all time. After golf the option is to stay in five star luxury at Turnberry or move to Troon and stay at a well located four-star property.
Day 2
Royal Troon
If Turnberry can point to the "Duel in the Sun" between Watson and Nicklaus in 1977, then Royal Troon can celebrate the "Duel in the Wind" between Phil Mickelson and Henrik Stenson in 2016. In both championships the lead pair pretty much lapped the field. Watch out for the 8th, affectionately known as ThePostage Stamp, the shortest hole on the Open Championship rota and the notoriously difficult 11th
Day 3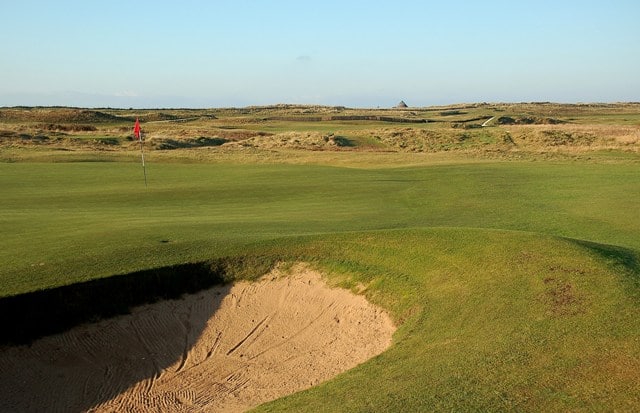 Prestwick
In 1851, a group of 57 golfers, made the momentous decision to form a golf club purchasing two cottages. The first cottage would become the members' clubhouse whilst the other was gifted to the club's Keeper of the Green, ball and clubmaker - Old Tom Morris. With a gold medal presented by the club's first captain for an annual competition still played for today, the legend of Prestwick and The Open Championship was born.
Day 4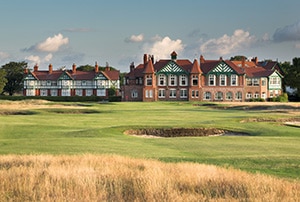 Royal Lytham & St. Annes
Check out of your Ayrshire Hotel before taking a three hour 30 minutes drive South. On reaching Lytham, have some lunch before taking on one of The Open's most feared venues. Renowned for producing superstar winners, Lytham is unusual in that despite being a true links, it is one mile from the sea at it's nearest point. Despite it's distance from the sea there are some breath-taking golf holes here.
Day 5
Royal Liverpool
Host to new fewer than 12 Open Championships, Royal Liverpool is another venue with a propensity for producing high quality winners. Rory McIlroy and Tiger Woods are it's two most recent Champions. Tiger's strategy to in 2006 to avoid the fairway bunkers at all cost proved very successful and there is no doubt that if golfers can keep visits to those hazards at a minimum they will go a long way to beating their handicap
Day 6
Royal Birkdale
The scene of Jordan Spieth's dramatic 2017 victory. Royal Birkdale has held more Championship and International events since World War 2 than any other course in the world. Open Championships, Ryder Cups, Women's British Opens, Senior Opens, Amateur Championships, Walker Cups and Curtis Cups. Royal Birkdale has been voted the number one golf club in England. It is simply magnificent
Day 7
Departure Day
Transfer from your Liverpool Hotel to Manchester Airport. There is a wide variety of direct flights to North America and indeed destinations across the globe. We have little doubt you will have any difficulty finding a departing flight to tie in with our golf tour. We will of course transfer all guided tour groups to the relevant airport in good time for you to make you departing flight home.
The Beatles
Magical Mystery Tour
See where it all began. Visit the Cavern Club and Step aboard the colourful Magical Mystery Tour bus for a fun and fascinating tour of Beatles Liverpool. You'll see all the places associated with John, Paul, George and Ringo as they grew up, met and formed the band. See their childhood homes, schools and colleges and the places that inspired some of their most memorable songs – Penny Lane and Strawberry Field
For a "Free - No Obligation Quote" fill out the form below