Enjoy A Piece of Golfing Heaven in the South West of Ireland
The South West of Ireland is considered by many as the Number 1 golfing destination on the planet. With good reason. Four Links Golf Courses regularly ranked in the World's top 50 and a couple of parkland courses to knock your socks off. Relax in luxury at Adare and spend a few nights in the bustling town of Killarney. The South West has it all, scenery, craic but most of all superb golf. Take a look at a sample itinerary below.
Day 1
Adare
Arrive Shannon and transfer to the spectacular Adare Manor and Golf at Adare. Recently renovated Adare has been receiving rave reviews, with many referring to it as "The Augusta of Europe". In all reality it is nowhere near as undulating as Augusta, but it's a visual treat and the most beautifully presented course in Ireland. After golf, relax in sumptuous luxury at Adare Manor.
Day 2
Lahinch
Often referred to as the St. Andrews of Ireland, Lahinch is widely acknowledged as a must play on any Golf Trip to Ireland. Home to the annual South of Ireland Amateur Open Championship and a most worthy venue for The Irish Open in 2019, visitors will be able to recognise the stunning beauty of the natural links when watching the Best in the World take on this phenomenal links.
Day 3
Ballybunion
Another legendary golf course in the South West of Ireland. Ballybunion has 36 holes and while the Old Course takes all the plaudits, if the Cashen course was situated anywhere else it would be considered a superb course in it's own right. The Old however is the star of the show and widely recognized as one of the best links on the planet. After golf transfer to the spectacular Killarney Park Hotel
Day 4
Tralee
Tralee Golf Club is a little younger than some of it's neighbours, but it 's a testament to it's creator, Arnold Palmer, that it quickly established itself alongside Lahinch, Ballybunion and Waterville as a must on any South West of Ireland itinerary. Simply spectacular, Tralee has several holes that will take your breath away and like the aforementioned regularly features in World Top 50 lists.
Day 5
Old Head
A relatively new addition to Ireland's list of "must play" golf course. A headland golf course with the most spectacular sea vistas, Old Head has to be seen to be believed. Many groups choose to commute from Killarney on a day trip however the suites at Old Head offer clients the opportunity to stay onsite. The nearby town of Kinsale is widely regarded as "The Culinary Capital of Ireland".
Day 6
Waterville
Another long time favourite for golf pilgrims traveling to the South West of Ireland. A favourite destination of American Tour Pros preparing for The Open Championship. The club had a strong affiliation with the late great Payne Stuart and has a statue in his honour at the first tee. Waterville is located along the scenic "Ring of Kerry", which is a must see on any trip to the South West.
Day 7
Departure Day
There are other superb courses such as Galway Bay, Doonbeg, Dooks, Hogs Head and Killarney in this region that can be added or used in an alternative itinerary. Departing both Shannon and Dublin airport is particularly convenient for our North American clients as guests can "pre-clear" customs in both these airports, thereby ensuring ease of passage when you touch down home.
Hotels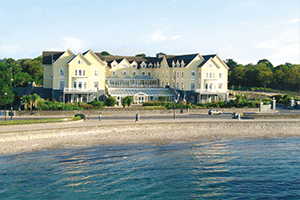 Hotel Choice
The South West offers a huge variety of accommodations. Courses in the North of this region such as Galway Bay, Lahinch, Doonbeg and Adare are an easy commute from Galway, while their are also options close by to all those courses. Further south, Killarney has a wide variety of hotels and is "the place" to stay while commuting to the rest of the courses in the region.
For a "Free - No Obligation Quote" fill out the form below