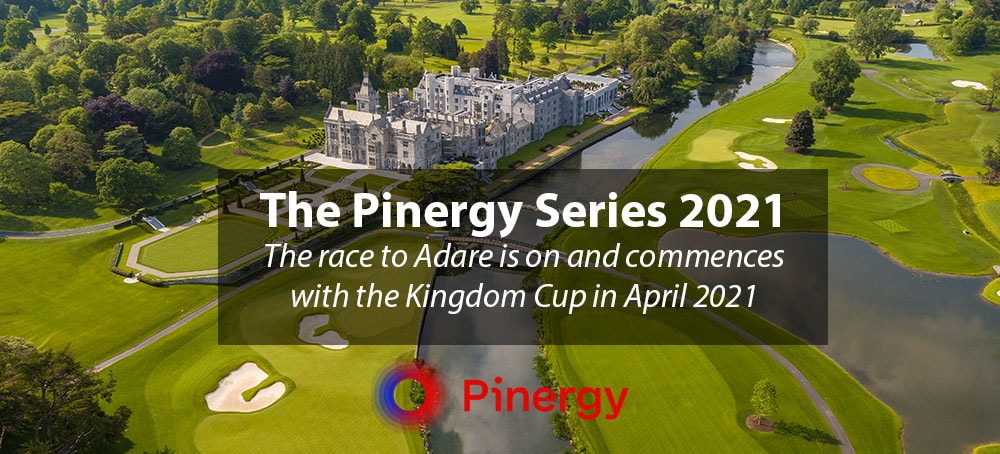 The Race to Adare is on in the Pinergy Series 2021
The team at Lyons Links would like to send out a big thank you to Pinergy for sponsoring our upcoming 2021 series of events. The series will give competitors the chance to qualify for the Grand Final at Adare in September 2021, at some of Ireland's best courses along the way. The series kicks off with The Mayo Masters at Westport played over three rounds at Westport (36 holes) and Carne Golf Course (18 holes), June 17-19. Limited Entries are now open for all events now. You can view the list of scheduled events below:
The Mayo Masters
The first event in the Pinergy Series will take place in Westport and Carne Golf Clubs between June 17-19. Accommodation at the highly-rated Westport Plaza. Entries are now open.
The Kingdom Cup
Originally the first event in the Pinergy Series, The Kingdom Cup has been rescheduled to July 6-8 with 36 Holes at Waterville and 18 holes at Dooks Golf Club
The Tribal Classic
The Pinergy Series will move to Galway in July and take place in Galway Bay and Portumna Golf Clubs between July 14-16. Accommodation at the highly-rated Connacht Hotel. Entries are now open.
The Mount Juliet Masters
The Pinergy Series takes us to the sunny south-east for the Mount Juliet Masters, September 13-15, 2021. One round in Carlow Golf Club and two rounds at Mount Juliet with accommodation at the magnificent Mount Juliet Estate.
Pinergy Series Final at Adare
The Pinergy Series Final will take place September 24 - September 26 2021 at Adare, Adare Manor & Dromoland Castle Golf Clubs. Accommodation at The Strand Hotel Limerick. Competitors can earn their place in the Final at any one of the Summer Series events. A number of places will also be available for purchase. More information to follow.