Joe Lyons, Co-Founder
First of all, thank you for taking the time to visit our Website.
Please allow me to introduce myself. My name is Joe Lyons and I have been a Golf Fanatic all my life. From the age of nine when I first picked up a club to this day, the game of golf has seduced, intrigued, beguiled but most of all frustrated me. The Game of Golf has been extraordinarily good to me and in many ways has been my redemption. Growing up in Ireland surrounded by some of the most fantastic course on the planet, with relatively easy access for Juniors was and is a privilege that nurtured my love of the game. Indeed the tales of all the great battles between our leading amateurs, down through the generations, at venues such as Lahinch, Rosses Point, Royal Portrush and County Louth lended to the legend of these Great Old Links. These tales relayed through my Dad and his golfing buddies, were all the more real when, every now and then one of our local members took a scalp at a West or South of Ireland Championship. My Dad was the real inspiration behind my golf and without his encouragement, I would not have had such love and respect for the game. With the passion instilled, I went on to compete and win a number of championships across the UK and Ireland in an amateur career, which include International Honours and is now going into its third decade.
Visiting and competing at best links venues on the planet has been a privilege and has provided me with an in-depth knowledge of the best seaside golf destinations in Ireland, Scotland and England. I should also advise that there are some exceptional parkland destinations too. Having visited these venues and localities over such a lengthy period, I have a vast network of friends and my reputation within the Golf is well founded.
After working as Social Care Worker for twenty years, I developed a Facebook group and website called Irish Golf Noticeboard, which is thriving to this day. I am instantly recognisable and traceable through this network, which offers readers an opportunity to evaluate my standing in Irish Golf.
After twenty years of caring for the more vulnerable in Society, I made a career move to the Golf Industry. I now care for clients and no stone is left unturned to ensure Golfers coming to experience our majestic links are cared for in a manner second to none.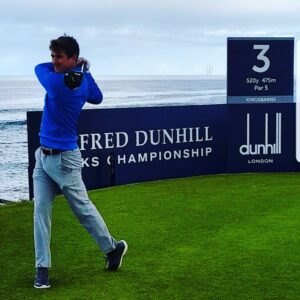 Colm Crowley, Co-Founder
Golf has been an integral part of my life since my childhood. My late grandfather (Brian Lawler) introduced me to the game of Pitch & Putt at his local club where he taught me the basics. He had a great understanding of golf and the ethics around the game. From the onset, I was hooked, spending most of my free time at this little course with some of my friends. When I was in my mid-teens, I became a member of Woodbrook Golf Club, a lovely course by the Irish Sea on the outskirts of Dublin City.
Fast forward to today and I have been lucky enough to compete at some great events around Europe and further afield, both as an amateur and professional golfer. Being a member of the UK-based Euro Pro Tour and the European-based Pro Golf Tour, afforded me with the opportunity to play some of the best courses across the continent.
Having had the chance to tee off with European Tour regulars such as Jordan Smith and Bradley Dredge in the last few years was something I thrived on. I was fortunate to play golf for a living and although my time in the pro ranks was relatively short and lacked many positive results, I learned a great deal from the experience. Notably, my ability to organize logistics when it came to my own travel arrangements.
As I was on the third tier of Professional Golf in Europe, I did not have the adequate funds to employ an "agent" and I had to look after all my own logistics from booking flights and accommodation, to organizing transfers through the desert in Egypt. I became very adept in this area, so much so that other players on the Tour asked me to organize the logistics for them. This, along with my extensive knowledge of the UK and Irish Golf market, gave me great confidence to step back into the Golf Travel Sector.
I met Joe several years ago through Golf Travel and we have formed a strong relationship with our sole focus being you, the client. With our wealth of knowledge in the Golf Industry, we will ensure the you have a memorable trip to the Emerald Isle.
Ed Woronicz PGA, Director of Strategic Partnerships
Ed Woronicz is a 40 year member of the PGA of America, with extensive professional, playing, business and travel experience in the golf industry. "It was during my years as a club professional in New England that I began leading teams of club members to compete in events such as the World Pro-Am, International Four-ball and Lobster-Pot Invitational. Years later I began organizing and leading small and large groups to Kiawah Island, Ireland, Scotland, the Caribbean and Bermuda. It was with these groups that my passion for travel became apparent, seeing the joy on people's faces as they traveled to the games most desired destinations and walked the fairways of the game's most renowned courses."
"It is truly a pleasure to be rejoining Joe and Colm at Lyons Links… no one cares more about their clients or provides a better golf and travel experience than they do!" As Director of Strategic Partnerships I look forward to growing those relationships with PGA Sections, allied golf associations, corporations and especially working with my fellow professionals and their members to assist in creating their dream golf travel experience."
Our Promise to You
It is Lyons Links mission to offer the most authentic and luxurious Golf Trips to the UK and Ireland. We provide trips to Ireland, Scotland and England, however, if you require a specific trip or destination not listed on our site, please email us at [email protected] and we will endeavor to make your dream trip a reality.
Thank you once again for your time considering our services.