Enter our draw to Win a Golf Tour To Ireland when you sign up to receive the Lyons Links Newsletter.
This tour for 4, features 5 nights accommodation in Highly Rated 4 Star Hotels with a full Irish or Continental Breakfast each morning. Plus 5 rounds of golf at some of the best courses the West of Ireland has to offer including Connemara Golf Club, Enniscrone Golf Club, Galway Bay Golf Club, Carne Golf Club, Co. Sligo Golf Club. Your complimentary tour will also include a large vehicle big enough for 4 people with clubs & luggage. We also include Super Cover Insurance and an Irish Player Pack upon arrival. A Lyons Links Representative on call throughout the duration of your trip,
Scroll To See Your Ultimate West of Ireland Golf Tour!
Arrive at Dublin/Shannon Airport
Greeted by Lyons Links Representative and collection of Volkswagen Caravelle, big enough for 4 people with clubs & luggage.
Travel to Galway
Play Galway Bay Golf Club
Check into the highly rated 4 Star Galmont Hotel in Galway City
Stay the night in the highly rated 4 Star Galmont Hotel in Galway
Day 4: Play Enniscorne Golf Club
Enjoy a Full Irish or Continental Breakfast
Travel to Enniscrone
Play Enniscrone Golf Links
Continue back to Sligo City
Stay the night in the highly rated 4 Star Glasshouse Hotel in Sligo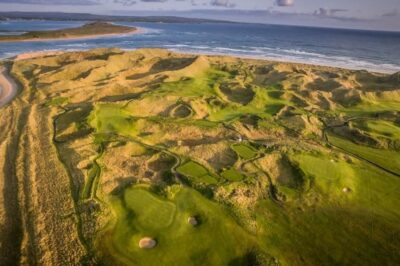 Simply sign up below to receive the Lyons Links Newsletter and you will be automatically entered into our draw for this spectacular West of Ireland Golf Trip